NSW hot water company, Affordable Hot Water, is owned and operated by plumber, Shane Foster.
Located in Frenchs Forest in NSW, the business services the northern suburbs of Sydney and has been operating since 1993.
The main business of Affordable Hot Water is the supply and installation of new hot water heaters or the repair of existing water heaters. The company also fixes leaking hot water valves, gas and electric hot water heaters.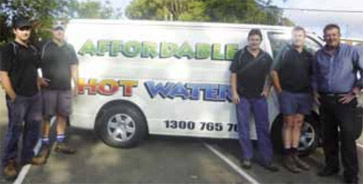 Keeping sustainability top of mind, Affordable Hot Water makes sure all waste materials are recycled, including cardboard boxes, old steel water heaters, copper piping and brass fittings.
After finishing school in the NSW town of Narrabri, Shane moved to Sydney in 1988 to start his apprenticeship, and worked for a plumbing company for around five years before deciding to go out on his own.
He said, "I loved working with water heater installations and was looking for a new challenge. At the age of 23, I had great energy and decided to take on the challenge of trying to run my own business, as it would give me the chance to continue using my skill set, while learning the ropes of running the business side of things.
"My focus was to bring a bit of the country to the city, in terms of offering a fair and honest business with great service and a genuine country attitude. I am really pleased with how everything has turned out with the business and I think this is due to our customer service and workmanship," he added.
The company is now booming and is one of the better known plumbing companies in Sydney. The business has also grown over the last few years and now employs six staff – two administration staff, who are office based, and four qualified plumbers who are always out on the road.
While Shane advertises his company services, he believes most of his work is repeat business from happy customers.
He added, "We are a plumbing company with longevity and are known in the area for our consistent good service and quick, same day turnaround. I have great staff on board who make this a great business for the company and our clients.
"The staff enjoy their jobs and this is due to a few key principles. They are qualified with the ability to do the job, take pride in their work and always have a great attitude. There isn't much more you could ask for," he concluded.